Below are some examples of how your kind donations have helped:
Life-saving kidney biopsy service
ACT is proud to have funded £24,500 for a nationwide digital pathology study that enables donor kidneys to be urgently assessed. This greatly increases the number of organs available for successful transplant, saving lives and the substantial costs of dialysis.
With our support, this system is being further developed to trial biopsy assessments without the need for human interaction, which has far-reaching potential for better patient outcomes and cost savings
Music therapy for stroke patients
Following a successful first year, we are delighted to provide £18,366 to fund a second year of music therapy for stroke patients. Together with the team on Lewin Unit, Dr Alex Street has worked with individuals and groups, resulting in a highly positive effect on patients' moods and emotional wellbeing.
During the first nine months alone, 60 patients received music therapy, amounting to 220 sessions. This is a pilot project that we hope will prove sufficiently beneficial to warrant ongoing NHS funding beyond the end of the pilot period.
Improving brain tumour analysis
£14,000 has funded new software which allows a more precise method to distinguish between tumours that are growing back after treatment from the swelling that occurs as a result of treatment.
Being able to do this means patients who are responding to therapy can be reassured and avoid unnecessary additional treatments. Those who do require additional therapy will be able to start quicker. This also saves costs by avoiding the need for expensive PET imaging.
Life-enhancing portable paediatric ultrasound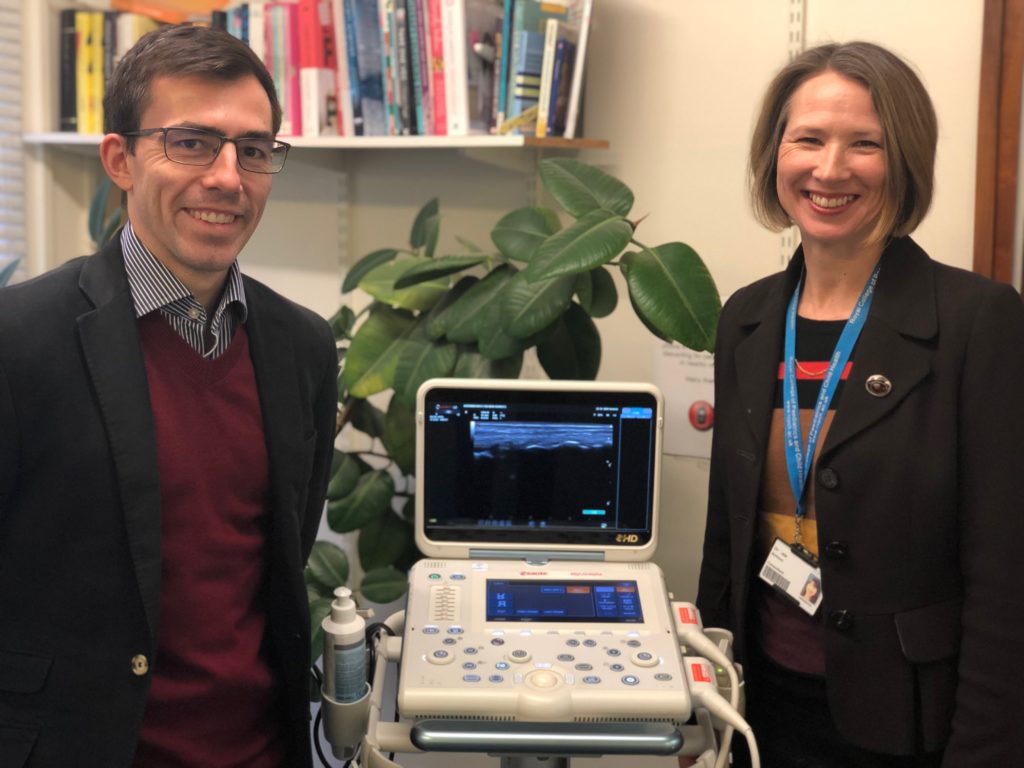 This £22,995 machine allows the accurate and effective targeting of injections for children with cerebral palsy and arthritis. Ultrasound is particularly appropriate for children as it is painless, avoids radiation and, being portable, teams can make decisions quickly to minimise joint damage and reduce the risk of permanent disability. It also means fewer visits to hospital and less waiting.
Dancing for health
Falls are the largest cause of emergency hospital admissions for older people and the experience can be traumatic. Health professionals at Addenbrooke's have joined forces with a professional dance artist to develop 'Dancing for Health', a pioneering project offering older people tailored music and movement workshops in hospital.
Funded for two years thanks to a grant of £117,045 from The Dunhill Medical Trust, this project helps improve the hospital experience for older people, so they can retain their confidence, physical strength and overall wellbeing.
Home infusions for children with immunodeficiency
Children with primary immunodeficiency diseases attend Addenbrooke's every 3-4 weeks for immunoglobulin infusion therapy to prevent chronic and severe infections.
Charitable funding of £12,750 has bought ten infusion pumps allowing this therapy to be self-administered at home on a weekly basis, greatly reducing the need for hospital visits. This new service is available to children across the East of England.
Establishing a regional service for stereotactic radiosurgery
As a result of £1.7m funding from ACT for a new linear accelerator, the radiotherapy department at Addenbrooke's is now a regional centre for stereotactic radiosurgery (SRS) – delivering highly targeted radiation to brain tumours using fewer high-dose treatments than traditional therapy.
SRS can help preserve healthy tissue and avoid side effects associated with other treatment, such as loss of memory and other cognitive function. Patients across the East of England can now be treated at Addenbrooke's, instead of having to travel to London for this specialist care.
Cancer exercise rehabilitation programme (treatment)
It is proven that by being physically active whilst undergoing cancer treatment can be of great benefit to patients, including prevention of future or associated illness and reducing mortality. A new programme 'REACT' (Rehabilitation and Exercise During Addenbrooke's Cancer Treatment) has been established thanks to £40,000 of charitable innovation funding. It sees patients receiving the benefits of exercise during, rather than after their treatment.
Re-opening of hydrotherapy pool
The hydrotherapy pool, which has been closed since June 2017, was reopened thanks to £57,300 of ACT funds. The pool is used by around 1,000 patients annually, including children, haemophiliacs, adults with chronic pain and patients rehabilitating after injury or operation who are unable to exercise on dry land.
The water-based treatments made possible by the refurbished pool have already seen improved patient outcomes and increased patient satisfaction.
Dementia sufferer support
Patients with dementia often struggle with anxiety and short-term memory and can find it difficult to communicate. Dementia Reminiscence Therapy uses powerful feel-good memories to coax patients out of isolation, help them communicate and provide comfort in a time of distress.
Funding of £39,000 has purchased eight easy-to-use touch-screen computers, allowing patients to listen and sing along to the music of their youth, watch old films or play simple games – calming them down and reducing the need for anti-psychotic medication.
Improving the lives of blood cancer patients
We spent £30,000 on an Extra Corporeal Photopheresis (ECP) machine to treat chronic Graft versus Host Disease (GvHD), a terrible side effect caused by bone marrow transplantation. Symptoms vary but can include severe blistering, shedding of the skin, diarrhoea and vomiting. ECP uses ultraviolet light to treat the blood cells, decreasing the risk of life-threatening infections and admissions to intensive care.
This second machine ensures patients can be treated in Cambridge, reducing the strain and expense of travelling to London or Nottingham.
All thanks to you
We've achieved so much thanks to our generous supporters, but there's still more you can help us with.
£1 could buy an activity pack to keep a toddler busy while mum is waiting in an antenatal clinic
£10 could enable volunteers to take part in ground-breaking research that could save countless lives
£100 could help reduce cancer recurrence for 10 patients through a focussed rehabilitation session
£1,000 could help fund a breast cancer counsellor to provide vital psychological support for patients
£108,000 could fully kit out an emergency children's ambulance with live-saving equipment
We want to continue doing more for the hospital – please donate today – thank you.
To find out more, please contact us or call 01223 217757.
Return to what your donations do