Research is the driving force behind ongoing innovation and excellence in healthcare. ACT provides highly valued funding to support medical research that is vital for improving patient care at Addenbrooke's and across the NHS.
Our ambitions are to:
support innovative research
'pump prime' pilot projects and new initiatives
invest in people – doctors, clinical and healthcare scientists, nurses, midwives and other allied health professionals
build clinical research capacity at Addenbrooke's and the Rosie hospitals and the wider NHS
support research of exceptional relevance to patients and the NHS that otherwise would not be possible.
We support diverse types of research encompassing:
better ways to diagnose, detect and screen for disease
well-being and prevention of disease
aetiological research to better understand what causes disease
discovery, development and evaluation of new treatments or services (including research in pre-clinical, clinical, community and applied settings).
Innovation for patient benefit
New ideas and technologies are vital if we are to continue raising the standards of healthcare and meeting the ever-increasing demands of today's NHS.
Our Innovation for Patient Health (IfPB) programme addresses gaps in funding for innovation projects and encourages the uptake of innovation into clinical practice in the NHS. This includes supporting innovative ideas that have potential to deliver important healthcare benefits.
Since 2014, ACT has granted 21 Innovation for Patient Health awards totalling £565,445 (a list can be found here).
Research and innovation projects you have helped to fund
Personalising breast cancer treatment
Thanks to many generous ACT supporters, in 2015 ACT provided £1.1m of funding spread over a number of years to support the Personalised Breast Cancer Programme. This clinical research project assesses the feasibility of sequencing the genomes of volunteer patients from the Cambridge Breast Unit at Addenbrooke's, using this information to ensure their treatment is personalised and most effective for them.
The project is having an impact for more and more patients, with some patients having changes made to their treatment to lessen side effects or being identified as eligible to enter clinical trials.
As the number of patients participating in the study continues to increase, the database generated from capturing the genomic sequence information becomes richer, making it more valuable for future research studies to determine which mutations drive tumour growth and resistance to chemotherapy – information that may lead to the development of personalised cancer vaccines in the future.
MyICUvoice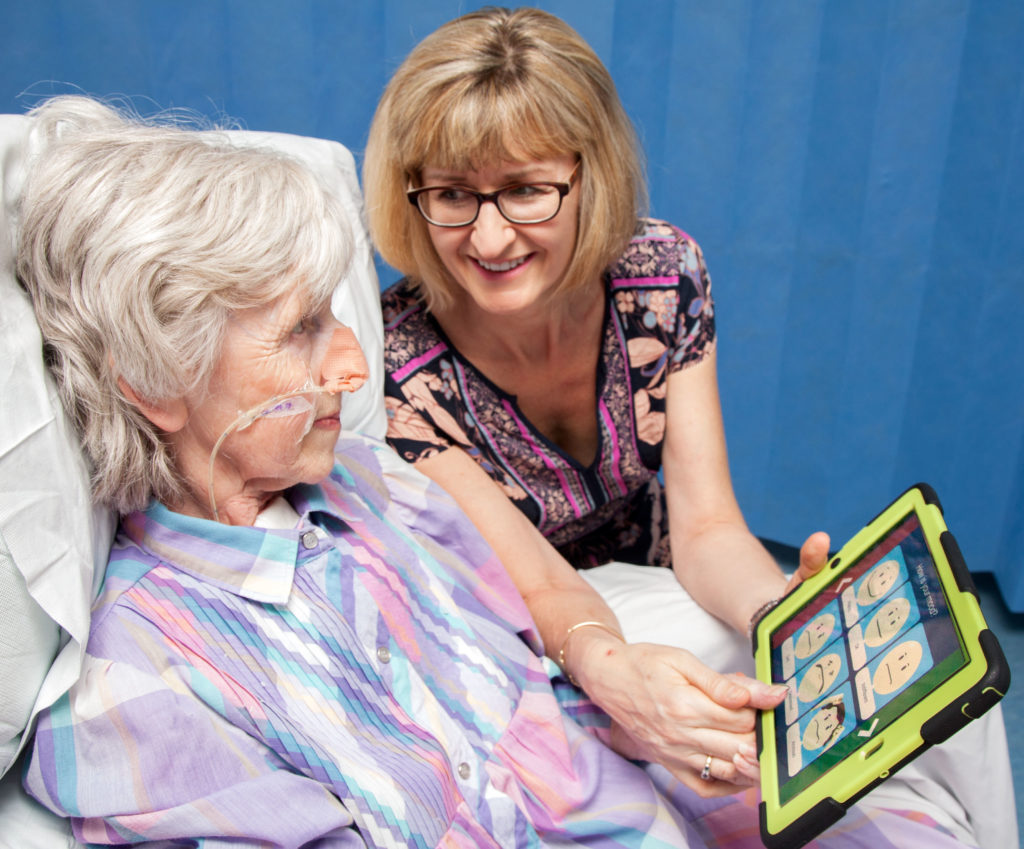 Not being able to communicate is the most distressing part of being critically ill on an Intensive Care Unit (ICU). A £40,000 innovation grant from ACT has helped enhance an iPad app 'MyICUvoice' developed by Dr Tim Baker, speciality registrar on the ICU at Addenbrooke's, so it can work as a communication interface between patients, their families and staff; as well as a symptom survey tool and a data collection device.
Leading research into peanut allergy treatments
In recent years allergy specialists at Addenbrooke's have undertaken extensive research and trials to help develop the world's first peanut desensitisation treatment with compelling, published results. The treatment involves training children's immune systems to tolerate peanuts by giving very small doses of peanut protein every day and then increasing the amount each week.
Thanks to generous support from the Garfield Weston Foundation, a grant of £200,000 helped fund the development of this work leading to the authorisation of a phase 3 confirmatory trial. This a key requirement for regulatory licences to make the treatment widely available to benefit a large number of patients of all ages in the UK and abroad. The grant has therefore played a very important role in enabling us to progress along the pathway to a new treatment for peanut allergy.
Newborn laparoscopic surgical equipment
Laparoscopic surgery is a minimally invasive, less painful alternative to open surgery with shorter recovery times. Thanks to the generosity of the Mark Benevolent Fund, ACT has been able to purchase specialist laparoscopic equipment so that surgeons at the Rosie will now be able to operate on more than 100 newborns and very young babies a year who would otherwise have had open surgery. That means less pain, scarring and potential complications, with a quicker return home.
Supporting vital research into cancer
Following a substantial reduction in the amount of research capability funding available in Cambridge, we are delighted to able to help bridge the gap in this vital area. ACT is providing funds of £105,181 for three posts, including a Senior Research Fellow in the field of radiotherapy, an administrator and a specialist chemotherapy nurse to help manage clinical trials.
Helping tinnitus sufferers
Most, but not all, profoundly deaf patients have tinnitus, which is extremely unsettling and can be overwhelming. It is not clear, however, why some patients do not. With £80,000 of funding, this research uses cochlear implants to investigate hearing nerve function and the effect of electrical stimulation. The objective is to improve patients' quality of life through customised cochlear implant strategies for tinnitus.
A new fibroscan ultrasound to enable research into liver disease
Patients with liver disease require frequent monitoring, which would typically involve hospital visits, invasive biopsies and associated risk of complications. That can be avoided with a fibroscan ultrasound machine, which is a quicker, cheaper, pain-free way to monitor liver disease.
ACT has provided £55,000 of funds for this second machine for Addenbrooke's, which will help meet ongoing demand as well as enable access to novel treatments through recruitment onto clinical trials.
Funding vital consumables for the liver perfusion machine
The Liver Perfusion Programme, which enables surgeons to better assess the suitability of livers for transplant and so make use of more donor livers has had a higher than expected supply of livers. This means that the machine requires more consumables to keep this highly successful programme going and ACT has stepped in to bring forward £85,800 of funding to test a further 22 livers as part of our two-year pilot
Pioneering research into non-Hodgkin lymphoma
Non-Hodgkin lymphoma is the 5th commonest form of cancer in the UK and ACT has provided £34,400 of funds for innovative new research into how hundreds of the most common mutations react to therapy. This novel research will allow clinicians to use mutations to guide treatment decisions and is thereby taking a big step towards highly effective, individualised treatments for non-Hodgkin lymphoma.
Ground-breaking studies into new treatments for viruses
Medicine has seen tremendous recent advances in antiviral treatments, but many important infections still cannot be cured because the virus enters a latent (dormant) state where it is unresponsive to treatment. Using £24,416 of ACT funds, this new study has discovered the means to reactivate a virus so that it may be treated, opening up exciting possibilities of new therapies and cures.
Hip muscle strength screening that could save £15m
Hip arthroscopy is a surgical procedure to alleviate hip pain in young adults, with 14,000 operations projected annually at a cost of £100m to the NHS. However, successful outcomes are limited to a proportion of patients and it is potentially linked to hip muscle strength. This screening, costing just £8,000, aims to investigate this potential link which, if established, could avoid unnecessary surgery and also save £15m a year.
All thanks to you
We've achieved so much thanks to our generous supporters, but there's still more you can help us with.
£1 could buy an activity pack to keep a toddler busy while mum is waiting in an antenatal clinic
£10 could enable volunteers to take part in ground-breaking research that could save countless lives
£100 could help reduce cancer recurrence for 10 patients through a focussed rehabilitation session
£1,000 could help fund a breast cancer counsellor to provide vital psychological support for patients
£108,000 could fully kit out an emergency children's ambulance with live-saving equipment
We want to continue doing more for the hospital – please donate today – thank you.
To find out more, please contact us or call 01223 217757.
Return to what your donations do