Evidence shows that creating calm and spacious sanctuaries aids recovery and helps reduce the stress of anxious hospital visits. Without your help, pressure on NHS funding would make these improvements nearly impossible, potentially hindering patient care.
Thanks to the support of our generous donors, we've been able to transform parts of Addenbrooke's into calm havens. Giving patients and families space to escape the busy and often stressful hospital environment is invaluable.
"I was constantly looking to escape to peaceful spaces. One day, I found a step outside to perch on with a coffee. I just wanted to feel the air on my face and soak up the early spring sun. The view was a building site but at least I was outside – which made it easier to focus not on being ill, but on getting well again." – Ruth, recovering from emergency neurosurgery
This film shows why healing spaces are so important:
Addenbrooke's is the region's major trauma centre and J2 is our rehabilitation ward for those recovering from serious head and spinal injuries. Our patients have had their world's turned upside down by sudden, serious trauma and, as they begin to recuperate, their surroundings become increasingly important.
We've been able to create a multi-sensory garden in a previously drab courtyard to help patients with their rehabilitation and bring much-needed comfort at such a distressing time.
We want to continue doing more for the hospital – please donate today – thank you.
How your support has helped so far:
The outpatient garden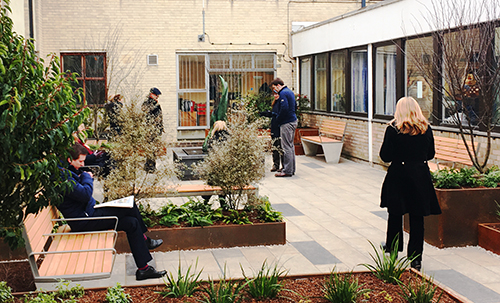 Outpatients is a busy environment where patients often experience the start and finish of their journey in healthcare. For some, this is where life changing news is received, for others a place for ongoing treatment. This area could be stressful for many patients.
Thanks to the support of the Mick George Community Fund, we have been able to transform an area of the hospital into the outpatient garden, creating a much-needed healing space that offers tranquillity and an opportunity for reflection and restoration.
Family-centred care
All too often, parents have to be separated from their young babies so they can receive the care they need. Together with the Charles Wolfson Charitable Trust, we were able to provide £350,000 for the Charles Wolfson family-centred ward at the Rosie, dedicated to keeping parents and young children together during their stay in hospital.
Haematology Day Unit gets a new lease of life
After an urgent appeal, we were able to give the Haematology Day Unit a much-needed, total refurbishment. Thanks to the generosity of our supporters, this £1.5m state-of-art facility can now treat twice as many patients with a wider range of treatments, using new life-saving equipment and facilities. Waiting times have also been reduced and visitors now benefit from a spacious and comfortable environment, which is welcoming and calming for patients and their families.
Paediatric Day Unit Refurbishment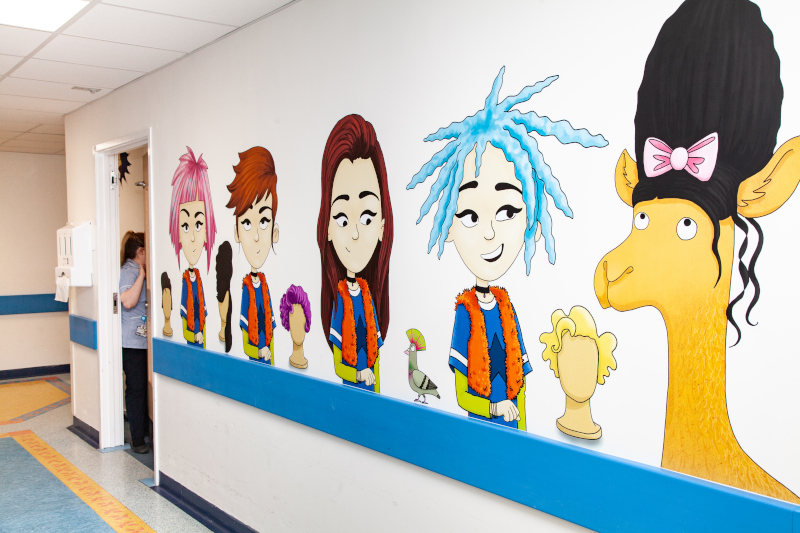 Thanks to £250,000 donated by our generous supporters, we have been able to fund the essential refurbishment of the Paediatric Day Unit, which houses the regional children's oncology and haematology outpatient clinics. Cramped and not user-friendly before, it has been reconfigured, freeing up more space for clinic rooms. For the 6,000 children and their families who are treated here, the unit is now a more comfortable, less stressful and safer environment.
Much-needed play equipment for the haemophilia clinic
The nature of haemophilia means that many of the children who attend the clinic have long waits for results, treatments or invasive procedures, sometimes as frequently as daily; all of which is upsetting and stressful. However, with £9,620 we have been able to fund new play equipment to provide much-needed distraction in the waiting and consulting rooms.
Reducing children's stress levels with toys often results in quicker, easier procedures and a better experience for patients and families.
Essential air conditioning for cancer patients
Some thyroid cancer patients require radio iodine treatment, which, because of its radioactive nature, requires a four day stay in isolation. The two radio iodine suites are self-contained and well-equipped, but they are also uncomfortably hot, even in winter. We are delighted to be able to alleviate that additional discomfort with £26,856 for the installation of air conditioning, which will bring immediate benefit to cancer patients.
State-of-the art unit to aid faster recovery
Thanks to £14,000 of funds, the much-anticipated Enhanced Recovery Unit is elevating care for patients undergoing upper gastro-intestinal surgery to a new level. Patients' journeys have been transformed, starting before admission with a pre-operative clinic to ensure they are fully prepared.
After surgery, new recliner chairs encourage patients to sit up as soon as possible to avoid chest infections; exercise bikes help patients get moving again and dedicated fridges stocked with nutritious snacks suited to the needs of each patient, aid faster recovery and speedier returns home.
Calming sensory play equipment for the children's wards
We're delighted to have provided £10,191 for three new sensory units in the children's wards at Addenbrooke's, helping young patients relax in unfamiliar surroundings by creating a calming environment.
Equipped with fibre optic displays, mirror balls, solar projectors and tactile panels, they're beneficial to all young patients and especially those with sensory impairments. And being portable, they can be brought to a child's bedside, treatment rooms or wherever they're needed.
All thanks to you
We've achieved so much thanks to our generous supporters, but there's still more you can help us with.
£1 could buy an activity pack to keep a toddler busy while mum is waiting in an antenatal clinic
£10 could enable volunteers to take part in ground-breaking research that could save countless lives
£100 could help reduce cancer recurrence for 10 patients through a focussed rehabilitation session
£1,000 could help fund a breast cancer counsellor to provide vital psychological support for patients
£108,000 could fully kit out an emergency children's ambulance with live-saving equipment
We want to continue doing more for the hospital – please donate today – thank you.
To find out more, please contact us or call 01223 217757.
Return to what your donations do