Press release
6 November 2023
(CUH press release)
CUH Arts, Cambridge University Hospitals' arts-in-health programme, has claimed a prestigious national healthcare award for its work on exploring the role of arts and culture in cancer care environments.
The hospital arts programme received a Building Better Healthcare award in the 'Patient Experience' category at the UK healthcare awards on 1 November 2023. The award 'Best Collaborative Arts Project (Performance)' was recognised for the team's creative engagement work with patients and staff to help shape the design of the future Cambridge Cancer Research Hospital.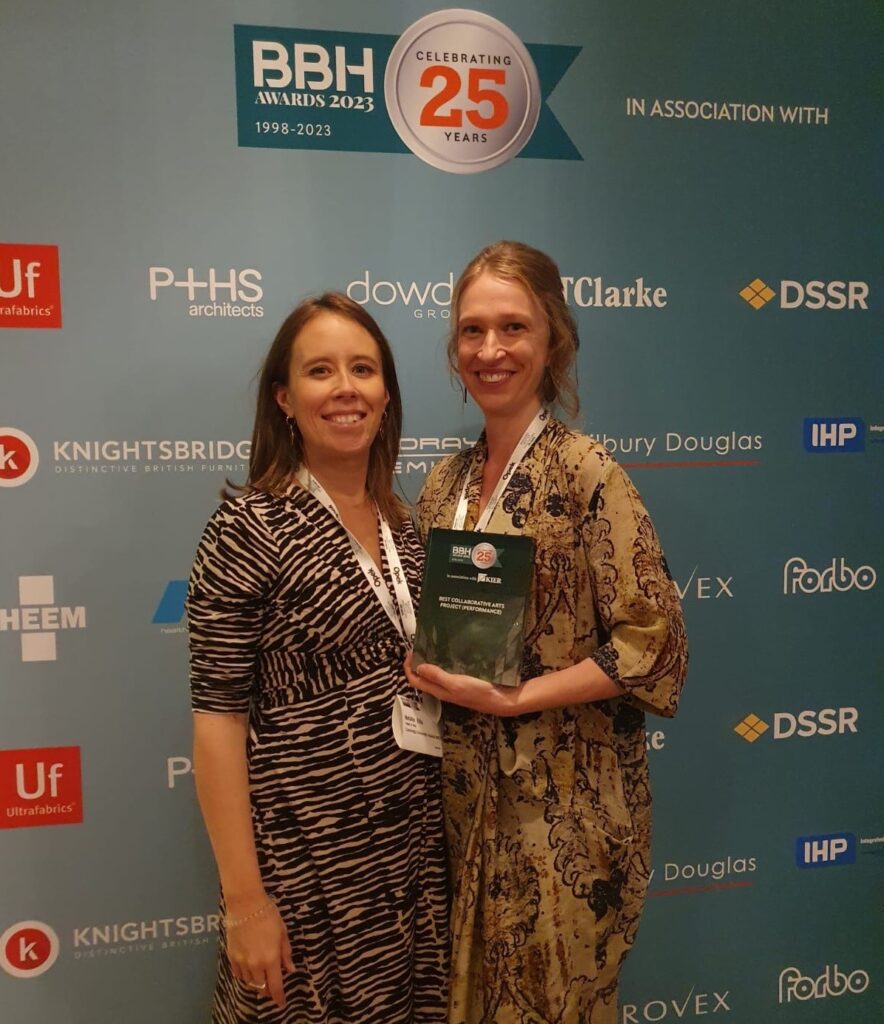 The specialist cancer research hospital for the East of England will bring NHS staff from Addenbrooke's Hospital and scientists from the University of Cambridge and its Cancer Research UK Cambridge Centre under one roof, in a new world-class facility being built on the Cambridge Biomedical Campus.
Research from both the UK and internationally has shown that using arts in care settings can significantly improve patient experience, health outcomes, and create positive working environments.
The programme, generously funded by the kind supporters of Addenbrooke's Charitable Trust (ACT), saw the CUH Arts team (Natalie Ellis and Ellen Nowak, CUH Arts pictured above right) facilitate workshops and research trips with staff and patients, exploring how nature, the environment and outdoor spaces can positively impact hospital environments. The team hope to incorporate their learnings into the Cambridge Cancer Research Hospital, as well as inspiring their work in current and future oncology spaces.
Ellen Nowak, from the CUH Arts Team said: "We are absolutely delighted to have won this national award, which recognises the value of our creative approach to engaging with staff and patients as we design cancer care for the future.
"We are deeply grateful to everyone who so generously shared their time, experiences and creativity with us.
"Through this work we have learnt so much about the vital role that the arts play in humanising our hospitals, and we look forward to putting this into practice as we design the new Cambridge Cancer Research Hospital."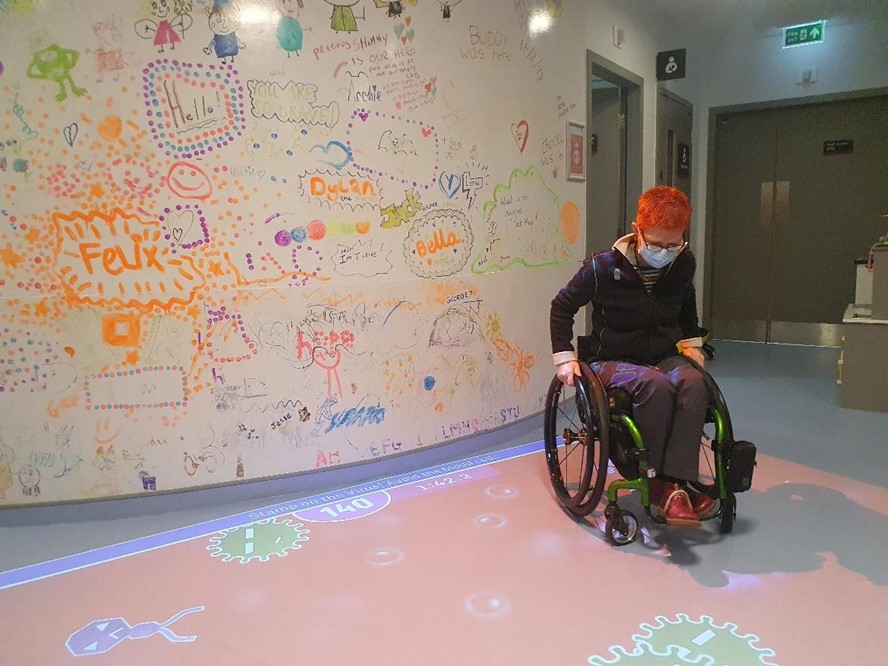 Patient representative trying out interactive play equipment in UCLH Proton Beam Therapy Centre
As part of the award-winning programme, patients, staff and Cambridge Cancer Research Hospital's project team visited the Oxford Cancer Centre and University College London Hospitals Proton Beam Therapy Centre, to learn from their experience of using arts within NHS oncology environments.
The CUH Arts team commissioned writer Hannah Jane Walker and botanical dye specialist Mia Sylvia to facilitate eight workshops in partnership with the University of Cambridge Museums.
The sessions, run at different museums in Cambridge, explored materials, textures and botanicals found in the natural world through expressive writing, pottery, natural dye-making, and wild flower-foraging to explore themes of rootedness, time, self, beauty, imperfection, strength and authority – all of which have profound relevance in the context of cancer care.
The activities facilitated conversations about experiences, care and ideas for future hospitals amongst the patients, clinical and research staff and museum professionals. Hannah Jane Walker observed conversations and has since created a publication of her learnings, titled 'Arts and Culture in Oncology Environments', detailing what cancer patients and staff want from arts and culture while in hospital.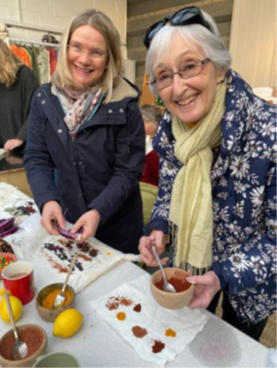 Susan Arnold, a patient involved in the design of Cambridge Cancer Research Hospital, said: "It feels amazing to be useful for something. After a process like cancer, where you have been made to feel redundant, passive, and irrelevant, to be asked for my opinion on something that can make it a better experience for others. I feel very emotional and I really appreciated being asked to share my experience."
A co-produced exhibition with Mia Sylvia, titled 'A Big Natural Colour Chart' which showcases the artwork is now on display at Addenbrooke's Hospital.
Return to news